The whole is greater than the sum of its parts.
Kia Stinger is an impressive vehicle right out of the factory, and our hand-picked custom designed upgrade components integrate with that canvas to deliver an amazing experience. Imagine eye-catching aerodynamic restyling elements, a hunkered-down performance stance, beautifully responsive suspension hugging the road, grippy tires on race-inspired wheels to instill extra confidence, a deep breathing power plant, and the assertive growl of that capable engine.
Aerodynamics
Our Air Design restyling kit conveys strength and swagger tastefully, with a clear nod toward track-inspired performance.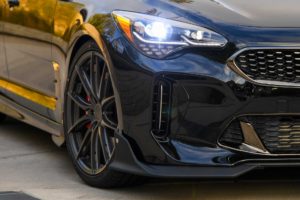 Winglets [2018 - 2021 GT models only!]
Inspired by the more industrial and functional canards seen on the track, our Front and Lateral Winglets convey a sense of stylish aerodynamic efficiency.  For us, they conjure images of slicing and channeling the air as we carve our path to victory (or to the local "car geek" hangout).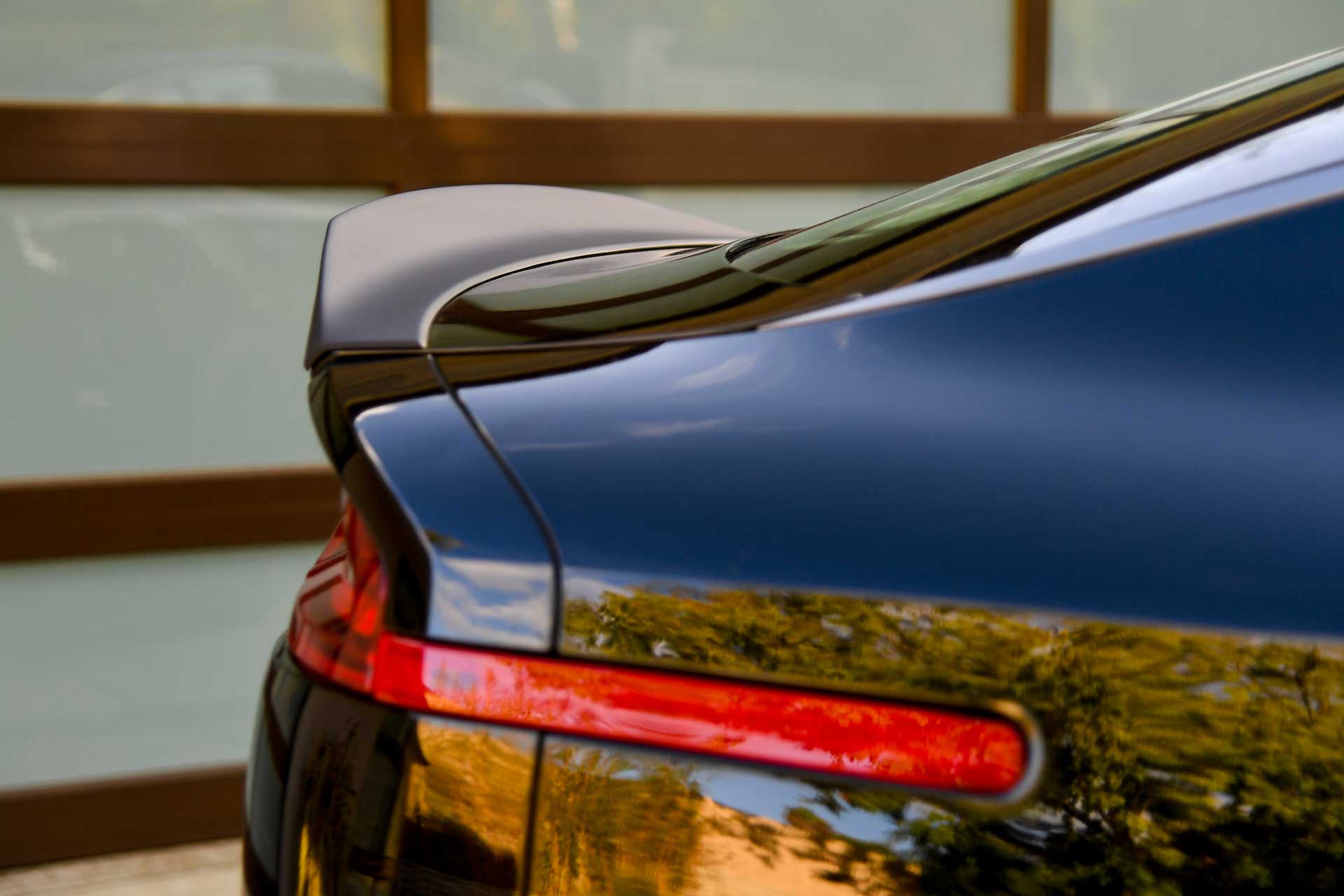 Spoiler
In our humble opinion, every true sports car should embrace some kind of rear spoiler treatment, and Stinger is no exception.  Looks kind of naked without one, right?  We feel our Rear Deck Spoiler hits that elusive sweet spot -- not too tiny and not overly aggressive.  And there's nothing wrong with a little downforce to help keep those rear tires planted at speed.

Diffuser [2018 - 2021 GT models only!]
Again taking inspiration from the track to create a sense of aerodynamic performance, our Rear Diffuser enhancement adds some nicely integrated surfaces, helps showcase the Borla (or factory) exhaust, and simply looks great.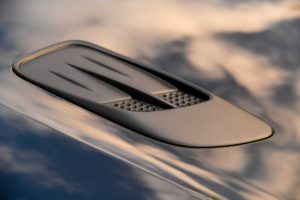 Hood Vent
All Stinger models include decorative factory hood trim, but we have pumped our replacements full of extra perceived functionality.  Rising proudly from the hood surface, the driver enjoys a more aggressive visual from the cockpit.  Sorry, they still don't create an actual pass-through venting system for the engine compartment, but they sure look and feel more powerful than the factory version.
Suspension
Our Eibach performance suspension system delivers dramatically improved handling.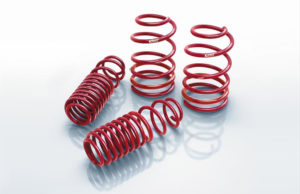 Springs
Progressive rate lowering springs pull the vehicle down around 1.5 inches to lower her center of gravity and virtually eliminate that unsightly fender gap.
Better road feel without becoming harsh.  Less body roll through corners.  Less dive on deceleration. Less squat during acceleration (and we predict there will be plenty of acceleration happening). And perhaps most importantly, that aggressive performance stance we all love.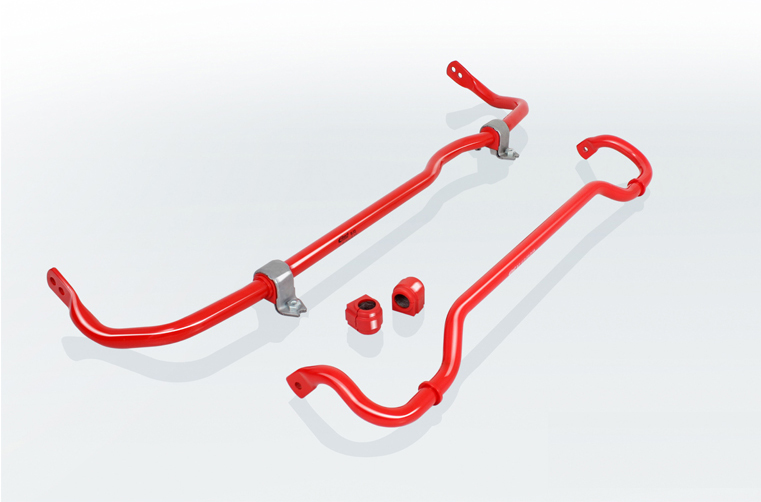 Anti-Sway Bars
Front and rear anti-sway bars add heft and cornering muscle over the factory parts, further contributing to that spectacular handling experience.
Intake
Our K&N performance cold-air intake system adds horsepower and improves acceleration.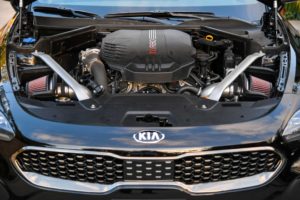 Cold-Air Intake [GT 3.3L models only!]
Stinger sports a twin turbo, so our intake system provides dual inlets and filters.  Beyond the performance improvement (and that wonderful sound of Stinger breathing deeply), our K&N system adds an artistic element of sculpted metal and naked conical filters under the hood.
Tucked into the front corners and flanked by Stinger's factory bracing (very cool), this intake makes a statement.
Note:  Some K&N air intake systems are not legal for sale or use in California and other states adopting California emissions standards.
Exhaust
Our Borla performance exhaust system improves power and enhances Stinger's sound, without compromising emissions or legality.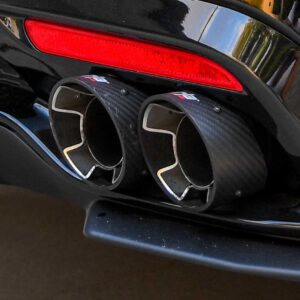 Cat-Back Exhaust [GT 3.3L models only!]
Our Borla cat-back system designed specifically for Stinger is the best money can buy, and is street legal in all 50 states.  304 stainless steel throughout, utilizing Borla's performance heritage and patented cutting-edge "Polyphonic Harmonizer" technology along with real carbon fiber tips made right here in the USA.  Gorgeous, if you're into a powerful performance look.  Easy to install using factory hangers...it just doesn't get any better.  And then there's that awesome throaty growl...
Appearance
Our Appearance extras offer additional style and pizzazz. Because looking good feels good.
Quick-Release Front License Plate Bracket
Our Sto-N-Sho quick-release removable front license plate bracket is custom designed for the Stinger and aimed squarely at those vehicle owners (like most of us) who cringe at the thought of drilling holes in their beautiful front bumper, detest the idea of a clunky factory front plate platform...but also prefer to be upstanding law-abiding citizens most of the time.
Engineered in lightweight anodized aluminum, this simple quick-release bracket allows you to drive in full compliance but also to remove the front license plate quickly and easily for car washes, show, or when parking in a questionable area (out in the boonies, to avoid door dings, of course).